2019 Yumi Katsura Grand Collection in Osaka
『 Cinematic Love Story』
Yumi Katsura Haute Couture World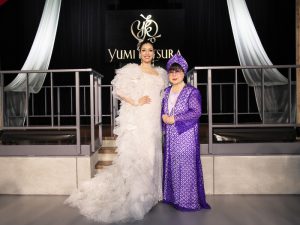 PLACE : GLION MUSEUM
DATE : 2019 July 24th
Yumi Katsura has successfully showcased the 2019 Yumi Katsura Grand Collection in Osaka
『Cinematic Love Story』 at The GLION Museum on July 24th, 2019. Being the 87th show in Japan, over 90 pieces of collections in Western and Japanese styles were presented. A huge thank you to all of you who joined our shows. You have contributed to the great success of all three shows. We were so grateful to have your applause and cheers.
Our special guest, Ms. Mika Ahn, a famous model and talent, stunned our audiences on the special stage with two haute couture dresses.
Furthermore, a one-day pop-up store was held at the event space. One more exciting news, last but not the least – A cartoon character of Yumi Katsura was born with the design concept "A Good Heart・Happy Life". The original goods of the character were the hot items at the show.
Thank you all again from our team, for your support and love.