Photos, words, letters...
Treasures which Yumi Katsura holds near and dear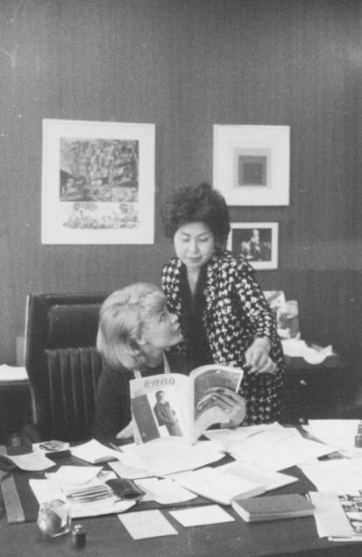 STORY

01
The actual feeling of true elegance
Very soon after she started in the wedding business, Yumi Katsura decided to travel to different countries to see what wedding dresses were actually like around the world. She obtained the necessary visas by becoming a special correspondent for a women's magazine. Her travels brought the opportunity to interview many international stars. Two of her most challenging interviews, with Grace Kelly and Audrey Hepburn, also turned out to be the most enlightening.
"When I met Grace Kelly, I understood the real meaning of 'elegant' as an actual feeling. She exuded elegance in the way she spoke, the way she moved and held herself. It awakened me anew to the vital qualities of a wedding dress. Audrey Hepburn's had a different kind of elegance, a cute loveliness that any woman loves. She made a huge impression."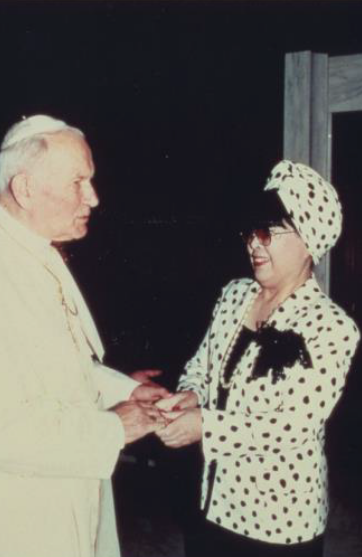 STORY

02
Embracing a sense of mission to transmit the beauty of Japan
Yumi Katsura helped preserve traditional techniques for making kimono and obi materials in the 1980s by developing new fabrics from Hakata-ori and Nishijin-ori weaving and Saga-nishiki brocade as novel materials for haute-couture dresses. Then her flexible, inventive spirit led her to a surprising step. To show the world the gorgeousness of Hakata-ori weaving, she decided to present Pope John Paul II with a formal vestment made from it. Having heard of the Pope's aversion wearing heavy garments, she saw an opportunity to promote Hakata-ori, a fabric renowned in Japan for its "thin and lightweight splendor." She designed a special material with pure gold leaf in the weave and a motif of pansies, the national flower of Poland, the Pope's homeland. The garment took a full two years to complete from the day she placed the order. In 1993, three months after receiving the gift, the Pope wore the vestment to an Easter mass broadcast worldwide. "Tears rolled down my cheeks when I received the Pope's thank-you note," she recalls, adding that it reinforced her sense of mission to "transmit Japanese beauty to the world."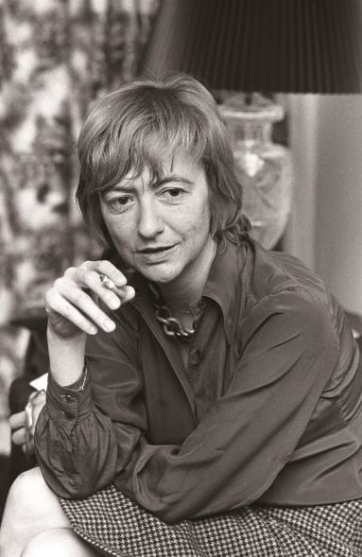 STORY

03
A single letter that gave me confidence
After Yumi Katsura Paris Grand Collection in January 1987, a letter arrived from a Frenchwoman who had seen the collection. "… if anyone steps out to retell the story of the Palace of Versailles in the future, the first person who will come to mind will be Yumi Katsura… No one but you could have expressed our romantic dreams with such a bold and freewheeling touch." The letter was written by the author Francoise Sagan. The recipient, insecure about the Parisians' reception of her show, was deeply moved by the message.
The boost of confidence from Sagan helped motivate her later activities in Europe. Yumi Katsura later won the Triumph of European Excellence Prize (Clothing Division) and went on to participate in the Paris Haute Couture Collection in 2003.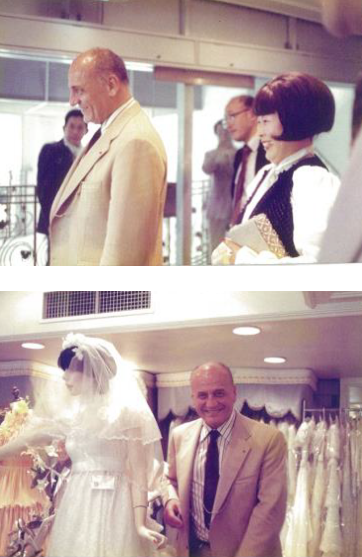 STORY

04
A gift of words that showed me my life's calling
Words that still echo in Yumi Katsura's ears, words that she holds dear. "The most beautiful thing in the world is the bride." So said the late Pierre Balmain when he visited her bridal house in Nogizaka, Tokyo. "I do haute couture in Paris," he went on, "but rarely do I have the chance to work with wedding dresses. Envy consumes me when I think of you surrounded with wedding dresses every single day."
Being "envied" by the number-one person in haute couture renewed Yumi Katsura's enthusiasm and devotion to bridal fashion as her joy and life's calling.